Happy New Year!
In 2019, there is a big event in Japan. The current crown prince ascends to the throne on May 1. In conjunction with that, Japan's era name is also changed. Reportedly, the new name will be announced on April 1, one month prior to the enthronement, to ease the transition including necessary system update and other preparation.
From intellectual property perspective, names of goods or services that are just recognized as the era name are not allowed to register trademarks in Japan, because of lack of distinctiveness. The names combined an era name and other non-distinctive word (e.g. generic names) are also not allowed to register trademarks.
The current trademark examination guidelines only describes about the current era name (such as 'HEISEI'). However, in the examination practices, the names showing former era names have been not allowed to register trademarks, when they are recognized as the era names.
Therefore, to clarify this, the Japan Patent Office (JPO) is making an amendment of the examination guidelines. JPO published a draft amendment of the guidelines*1 on October 23 2018, in which an example of trademark lacking distinctiveness will be changed from the "current" era name to just an era name, to invite public opinion. It seems that the government is concerned about rash trademark application filings which include the new era name or the current era name after the announcement. In fact, in June 2018, the JPO made a statement that an era name is not distinctive, even if it is an old era name.
By the way, the use of trademarks showing era names is not prohibited, though they cannot be registered to enjoy the exclusive rights. In addition, you will be able to register trademarks, when they have acquired distinctiveness, as a result of using them for a particular good or service.
Note*1: The amended trademark examination guidelines has become effective and applied to examinations from January 30 2019 on.
[Updated – May 2, 2019]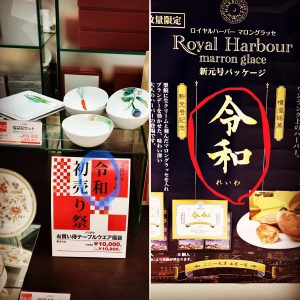 New era REIWA (令和) has begun in May 1, 2019. Then, many stores started the sale in celebration of the new era, using the character of "REIWA" on the packaging of goods and flyer, as shown in the right picture. So, trademark registration for era names is not allowed, as described above.