On May 16, The Japan Patent Office (JPO) released the updates on business-related inventions which are defined as invention which realizes a business method by using information and communication technology.
As previously reported, patent applications of business-related inventions have been on an increasing trend since 2011, and approximately 7,900 patent applications for business-related inventions were filed in 2016 (increase of 11.1% over the previous year), in spite of the downward trend in the number of domestic patent applications. Especially, patent applications in the financial sector (which should include FinTech) markedly increased in 2016 (increase of 40% over the previous year). The patent grant rate for business-related inventions is almost 70%. Therefore, many business-related patents have been generated in Japan.
While new technologies such as AI and IoT are progressing, in Japan, business-related patent has attracted attention to protect new services based on data generated by artificial intelligence based analysis, and protect IoT-related new business models.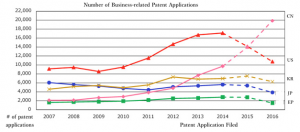 The JPO also showed the number of patent applications for business-related inventions in US, China, Korea, and EPO. As you can see the chart below, China is significantly increasing the number. On the other hand, US has been in the downward trend after 2014, which must have been caused by the Alice decision. Since I hear some changes have been happening after the change of USPTO Director, he may change the trend.
Anyway, you should develop patent filing strategies without forgetting that there are some countries where you can protect your business model by patent.